What Is Asbestos?
Asbestos is a mineral fiber. It can be positively identified only with a special type of microscope. There are several types of asbestos fibers. In the past, asbestos was added to a variety of products to strengthen them and to provide heat insulation and fire resistance.
How Can Asbestos Affect My Health?
From studies of people who were exposed to asbestos in factories and shipyards, we know that breathing high levels of asbestos fibers can lead to an increased risk of:
lung cancer:
— mesothelioma, a cancer of the lining of the chest and the abdominal cavity; and
— asbestosis, in which the lungs become scarred with fibrous tissue.
The risk of lung cancer and mesothelioma increases with the number of fibers inhaled. The risk of lung cancer from inhaling asbestos fibers is also greater if you smoke. People who get asbestosis have usually been exposed to high levels of asbestos for a long time. The symptoms of these diseases do not usually appear until about 20 to 30 years after the first exposure to asbestos.
Most people exposed to small amounts of asbestos, as we all are in our daily lives, do not develop these health problems. However, if disturbed, asbestos material may release asbestos fibers, which can be inhaled into the lungs. The fibers can remain there for a long time, increasing the risk of disease. Asbestos material that would crumble easily if handled, or that has been sawed, scraped, or sanded into a powder, is more likely to create a health hazard.
Where Asbestos Hazards May Be Found In The Home
Some roofing and siding shingles are made of asbestos cement.
Houses built between 1930 and 1950 may have asbestos as insulation.
Asbestos may be present in textured paint and in patching compounds used on wall and ceiling joints. Their use was banned in 1977.
Artificial ashes and embers sold for use in gas-fired fireplaces may contain asbestos.
Older products such as stove-top pads may have some asbestos compounds.
Walls and floors around woodburning stoves may be protected with asbestos paper, millboard, or cement sheets.
Asbestos is found in some vinyl floor tiles and the backing on vinyl sheet flooring and adhesives.
Hot water and steam pipes in older houses may be coated with an asbestos material or covered with an asbestos blanket or tape.
Oil and coal furnaces and door gaskets may have asbestos insulation.
How To Manage An Asbestos Problem
If it is a problem, there are two types of corrections: repair and removal.
REPAIR usually involves either sealing or covering asbestos material.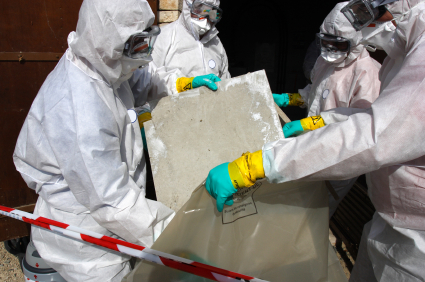 Sealing (encapsulation) involves treating the material with a sealant that either binds the asbestos fibers together or coats the material so fibers are not released. Pipe, furnace, and boiler insulation can sometimes be repaired this way. This should be done only by a professional trained to handle asbestos safely.
Covering(enclosure) involves placing something over or around the material that contains asbestos to prevent release of fibers. Exposed insulated piping may be covered with a protective wrap or jacket.
With any type of repair, the asbestos remains in place. Repair is usually cheaper than removal, but it may make later removal of asbestos, if necessary, more difficult and costly.
United Asbestos Removal and Abatement Services
United Environmental Services can facilitate a wide range of asbestos abatement and removal services to meet the needs of our clients. Whether the asbestos removal is driven by planned renovation, demolition, restoration, or is needed through rapid response due to a flood, fire, or other emergency, United has the solution to the problem and can oversee the project from start to finish.
Our team of experienced independent contractors has the expertise to perform abatement projects ranging from large industrial sites to the smallest of commercial and residential properties. All asbestos removal projects are conducted in strict accordance with all applicable local, state, and federal regulations. Contact Us today to insure your families safety from the silent dangers of Asbestos.
We serve a large range of mid-west areas such as:
Missouri
Kansas
Oklahoma
Wisconsin
South Dakota
Illinois
Iowa
Nebraska
Arkansas
Minnesota